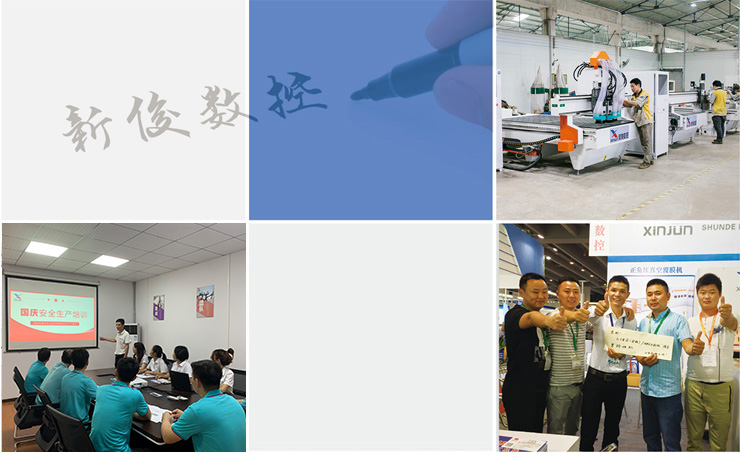 Shunde district of foshan city xinjun cnc equipment co.,ltd. was established in 2001 in high-tech enterprises, specializing in CNC system research and development, CNC machine tools production and sales. Shunde Foshan District Xin Jun CNC Equipment Co., Ltd. is a research and development, production and marketing, after-sales service as one of the technology innovation company.

The company mainly research and development of positive and negative pressure laminating machine, CNC engraving machine, vacuum plastic machine, veneer machine, PUR veneer production line, and other major series of dozens of specifications of the product. Widely used in machinery, research institutes, wood, wooden doors, molds, chemicals, advertising, glass and other different areas, and exported to the world. For businessmen to promote industrial automation, industrial upgrading to play an important role.

The company has not only professional technology for R & D and manufacturing of automatic equipment, but also professional personnel in manufacturing process improvement. We can do systematic process improvement programs according to customer requirements and manufacturing features of customer products. Enable customers to achieve production automation at the same time, the system can be upgraded as a whole, so as to greatly enhance production efficiency and quality.
The company has CNC machining center, wire cutting machine, milling machine, lathe, drilling machine, grinding machines and other manufacturing processing equipment, complete the formation of a strong production capacity, to provide a reliable guarantee for the company's production needs and product quality.

The company spirit of "endless products, honesty, the pursuit of excellence" principle, to provide our clients with professional planning and design, high-quality automation equipment. With a number of well-known enterprises and listed companies established long-term cooperative relations, warmly welcome friends from all walks of life come to visit, inspection, business negotiations.

KEYWORD:XINJUN CNC|CNC engraving machine|Vacuum suction machine|Sticker machine|Screen printing machine|Multifunctional coating machine|Positive and negative laminating machine|Positive and negative pressure suction machine|Sheet metal CNC cutting|Door engraving machine|Full automatic edge sealing machine|PUR multifunction wrapping machine|Foshan CNC engraving machine|Foshan vacuum suction machine|Foshan sticker machine|Foshan screen printing machine|Foshan multifunctional coating machine|Foshan positive and negative laminating machine|Foshan positive and negative pressure suction machine|CNC sheet metal cutting in Foshan|Foshan door engraving machine|Foshan automatic edge sealing machine|Foshan PUR multifunction parcel machine|Foshan PUR overlaying production line|Foshan multifunction positive and negative pressure laminating machine